Bra Shopping in Sri Lanka: A Guide to Finding the Perfect Fit with Aadaraya.
June 24 2023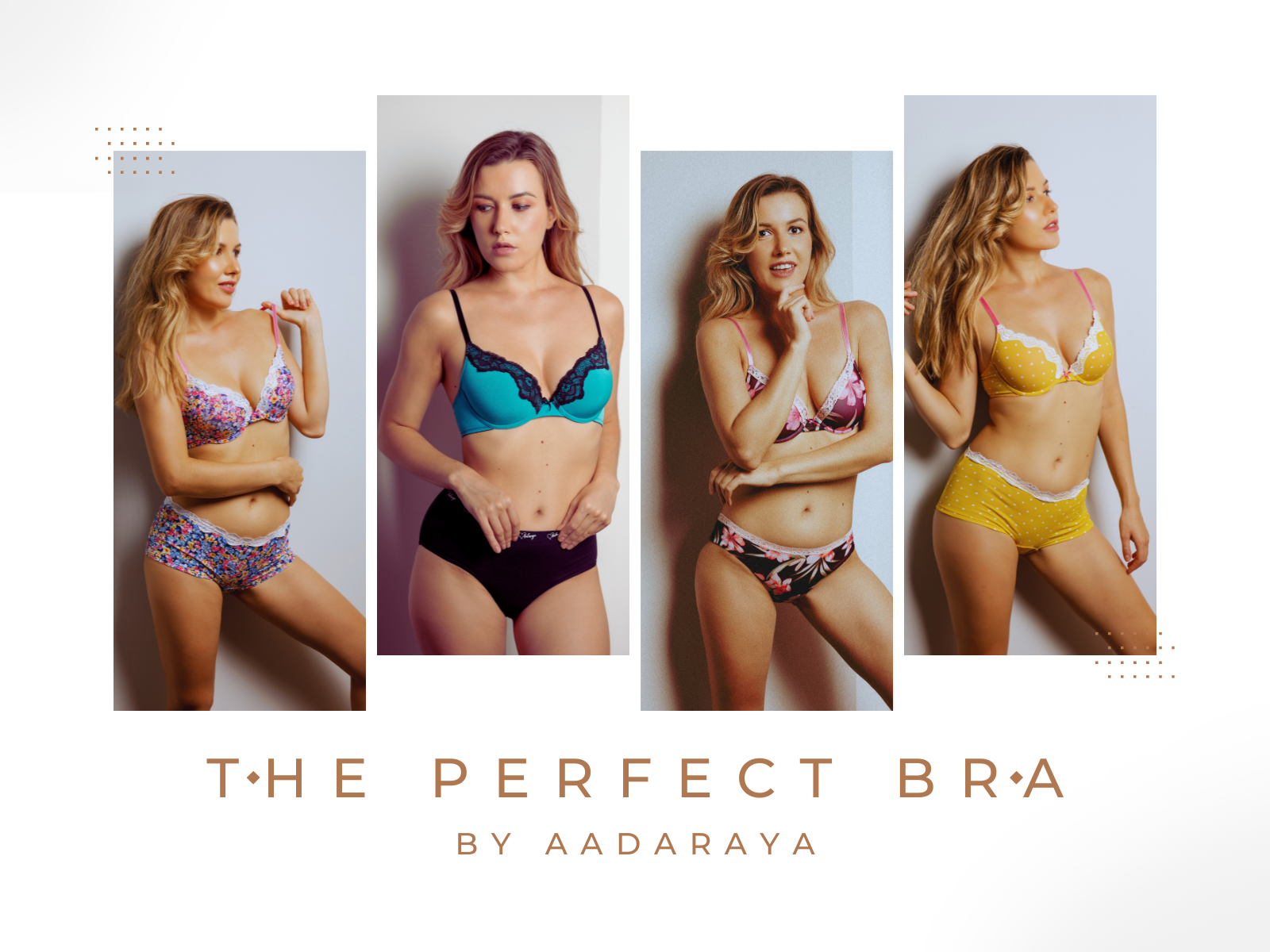 Bra shopping can be a daunting task, but finding the perfect fit is crucial for comfort and confidence. This is especially true in Sri Lanka, where limited availability of sizes and styles can make the process even more frustrating. But fear not! With a little guidance, you can navigate the world of bra shopping in Sri Lanka like a pro. From measuring yourself correctly to understanding the different types of bras available, this guide will help you find the perfect fit for your body type and personal style. Whether you're looking for a sexy lace bralette or a supportive sports bra, we've got you covered. So, let's dive in and make bra shopping in Sri Lanka a breeze!
Finding the perfect bra fit is essential for comfort, health, and confidence. A bra that is too tight can cause discomfort, pain, and even restrict breathing, while a bra that is too loose can offer insufficient support and cause sagging. Moreover, wearing the wrong size bra can affect your posture, cause back and neck pain, and even lead to skin irritation and chafing. On the other hand, a well-fitted bra can enhance your natural shape, provide support and lift, and boost your confidence and self-esteem.
The first step to finding the perfect bra fit is understanding your bra size. Many women wear the wrong size bra without even realizing it, which can lead to a host of problems. So, before you go bra shopping, take the time to measure yourself correctly. Here's how:
Wear a non-padded bra or no bra at all.
Stand up straight with your arms at your sides.
Measure around your ribcage, just below your breasts, using a flexible tape measure. Make sure the tape is snug but not too tight.
Round up the measurement to the nearest whole number. If the number is odd, add one inch.
This number is your band size.
Next, measure your bust size by wrapping the tape measure around the fullest part of your breasts. Make sure the tape is parallel to the ground and not too tight or too loose. Round up the measurement to the nearest whole number. Subtract your band size from your bust size to get your cup size. Each inch represents a cup size, as follows:
1 inch - A cup

2 inches - B cup

3 inches - C cup

4 inches - D cup

5 inches - DD or E cup

6 inches - DDD or F cup

7 inches - G cup

8 inches - H cup
For example, if your band size is 32 inches and your bust size is 36 inches, your cup size is D. Therefore, your bra size is 32D. Keep in mind that bra sizes may vary slightly among brands and styles, so it's best to try on bras in different sizes to find the perfect fit.
Different types of bras and their functions
Now that you know your bra size, it's time to explore the different types of bras available and their functions. Here are some of the most common types of bras and what they are best for:
T-shirt bra - A smooth, seamless bra that is perfect for wearing under tight-fitting tops and dresses. T-shirt bras usually have molded cups, underwire, and adjustable straps for support and comfort.
Push-up bra - A bra that lifts and enhances your bust, giving you a fuller and more defined cleavage. Push-up bras may have padded or angled cups, underwire, and adjustable straps for customization.
Sports bra - A bra that is designed for high-impact activities such as running, jumping, and aerobics. Sports bras are usually made of breathable and moisture-wicking fabric, have wide straps and a supportive band, and may come in different levels of support.
Bralette - A soft and lightweight bra that is comfortable and stylish. Bralettes are usually made of lace, cotton, or other fabrics and may have wire-free cups, adjustable straps, and a pullover or hook-and-eye closure.
Strapless bra - A bra that has no straps, making it ideal for wearing with off-the-shoulder or strapless tops and dresses. Strapless bras usually have underwire, a supportive band, and silicone or gripper strips to keep them in place.
Balconette bra - A bra that lifts and separates your bust, creating a flattering and feminine silhouette. Balconette bras usually have wide-set straps, underwire, and a lower-cut cup than a full-coverage bra.
Full-coverage bra - A bra that covers your entire bust, providing maximum support and coverage. Full-coverage bras usually have wider straps, a higher center gore, and full cups that encapsulate your breasts.
Here are some tips for making the most of your bra shopping experience:
Take your time - Bra shopping can be overwhelming, so don't rush it. Take your time to browse, try on different styles, and ask for help if you need it.
Wear the right clothing - To get an accurate fit, wear a top or dress that is similar to what you plan to wear with your bra. Avoid thick or bulky clothing that may affect the fit.
Check the fit - Make sure the band is snug but not too tight, the cups fully encapsulate your breasts, the straps are adjusted properly, and the center gore sits flat against your chest. Raise your arms, bend over, and move around to see if the bra stays in place and feels comfortable.
Look for quality - A good bra should be made of high-quality fabric, have sturdy straps and underwire, and be well-constructed overall. Look for bras that are durable, easy to care for, and comfortable to wear.
Trust your instincts - If a bra feels uncomfortable, doesn't fit right, or doesn't flatter your figure, don't buy it. Trust your instincts and keep looking until you find the perfect fit.
Common bra fitting problems and solutions
Even with the best intentions and efforts, bra fitting problems can still occur. Here are some common bra fitting problems and their solutions:
Spillage - If your breasts spill out of the cups or create bulges around the band, the bra is too small. Try a larger cup size or a different style that offers more coverage and support.
Gapping - If there is space between your breasts and the cups or the center gore doesn't sit flat against your chest, the bra is too big. Try a smaller cup size or a different style that offers more lift and compression.
Straps digging in - If the straps dig into your shoulders or create red marks, the bra is too tight or the straps are adjusted improperly. Try loosening the straps or adjusting them to a comfortable length.
Band riding up - If the band rides up your back or feels loose, the bra is too big or the band is stretched out. Try a smaller band size or a different style that offers more support and compression.
Underwire poking - If the underwire digs into your skin or pokes out, the bra is too small or the underwire is bent or broken. Try a larger cup size or a different style with a more flexible or padded underwire.
How to care for your bras
Now that you've found the perfect bra fit, it's important to take care of your bras to make them last longer and maintain their shape and support. Here are some tips for washing and storing your bras:
Hand wash - To prevent damage and stretching, hand wash your bras in cool water with a mild detergent. Avoid using bleach or fabric softener, which can weaken the fabric and elastic.
Air dry - To preserve the shape and support of your bras, air dry them flat or hang them upside down by the center gore. Avoid using a dryer, which can shrink or deform the cups and band.
Store properly - To prevent crushing or misshaping, store your bras in a drawer or on a hanger, with the cups facing up and the straps folded in. Avoid stacking or cramming your bras together, which can damage the cups and underwire.
Rotate - To extend the life of your bras and prevent wear and tear, rotate them regularly and avoid wearing the same bra two days in a row. This will give your bras time to rest and recover between wears.
Alternatives to traditional bras
If you're tired of traditional bras or want to try something different, there are some alternatives that may suit your needs and preferences. Here are some options:
Bralettes - Bralettes are soft and comfortable bras that are wire-free and lightweight. They come in different styles and designs, from lace to cotton, and can be worn as a casual or stylish alternative to traditional bras.
Sports tops - Sports tops are similar to sports bras but offer more coverage and versatility. They can be worn as a standalone top or as a base layer under a shirt or jacket.
Camisoles - Camisoles are sleeveless tops that can be worn as a layering piece or as a standalone top. They may have built-in bras or shelf bras for light support.
Bra extenders - Bra extenders are small devices that attach to the hooks and eyes of your bra band, allowing you to adjust the size and fit of your bra. They can be useful if your bra feels too tight or if you're between sizes.
Visit us at www.aadaraya.com for more information or Shop your perfect Bra.